Posted by NEWS AND PRESS on Oct 6th 2020
"This vehicle starts with all raw materials: a bunk of wood, a rack of steel, a few rolls of leather, and a couple cans of paint. Everything on the vehicle is handcrafted and forged in our shop the same way that it would have been in the 1800s."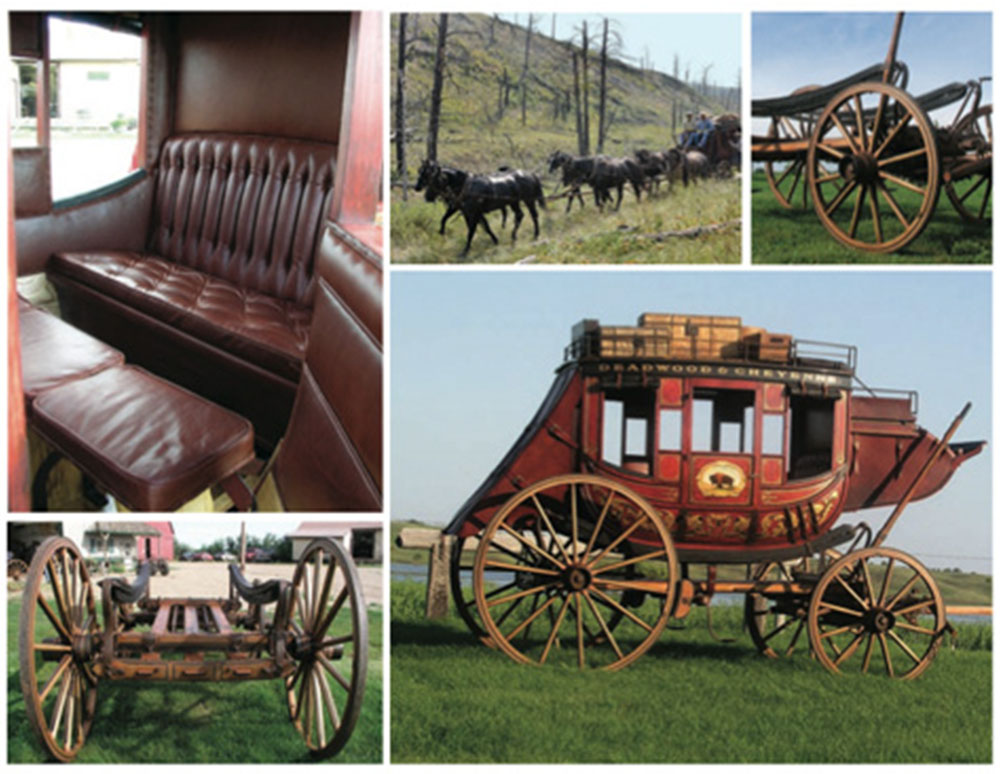 HARNESS
We developed the harness by working with Samson Harness and researching the original Concord style. This harness has an appropriate appearance for a coach, versus a late-period farm harness. It has special tug connectors— toggle ends that go through the single tree—that won't unhook at a gallop when the traces are flopping.
UNDERCARRIAGE
There are 300 feet of 3-inch wide leather—called thorough braces—going from the front jack to the rear jack. They
are the suspension straps that the body sits on. Rather than a metal spring, stagecoaches
have leather suspension. That improves the efficiency of the team because they're pulling more of a live load, which improved the ride and the carrying capacity.
WHEELS
We use the same materials the Abbot-Downing Company did years ago. We use hickory for the spokes, oak or elm for the hubs, and hickory for the fellows. The wheel is surprisingly durable. These would drive from St. Louis to California over and over again. They have an iron tire. The tire is what 'ties' the wheel together; that's the origin of the word.
STORAGE
The front boot—under the driver's seat—is wooden framed, but sided with leath- er. That's where the strong box or mail was stowed.
On the back of the coach is another leather baggage com- partment—the rear boot— covered with a flap. This is where the heavier, bulkier goods would go to lower the center of gravity. On the roof might be other luggage or parcels.
SEATING
In the coach body, there's seating for nine passengers— three seats of three. The center seat is a jump seat, you have to flip the seat ahead to
get inside. The upholstery is all done in leather in the traditional fashion. They would be sitting in the seats for 30 days if they were going to California. The seating is comfortable and attractively done, but it's only about a 7-foot by 4-foot area for nine people.
PAINT
The scrollwork pattern and piping decoration was prominent during this time period. The mural on the door was typically painted to represent the region where the coach would be used. This particular one has a bull buffalo on it.
American Cowboy April/May 2016