Posted by NEWS AND PRESS on Oct 6th 2020
FOR IMMEDIATE RELEASE: A small shop gained big exposure on national television. Hansen Wheel and Wagon Shop was recently featured on NBC'S Today Show "Sundays with Harry". The segment with Hansen Wheel and Wagon Shop aired Sunday, December 6, and featured behind-the-scenes construction of stagecoaches and wagon wheels at the business in Letcher, SD.
Reporter Harry Smith learned of Hansen Wheel & Wagon Shop while reading an article about the company in the Wall Street Journal earlier in the year. He then arranged a visit to Hansen Wheel and Wagon Shop this fall to meet with the crew face-to-face, and shoot footage for his segment on NBC's Today Show.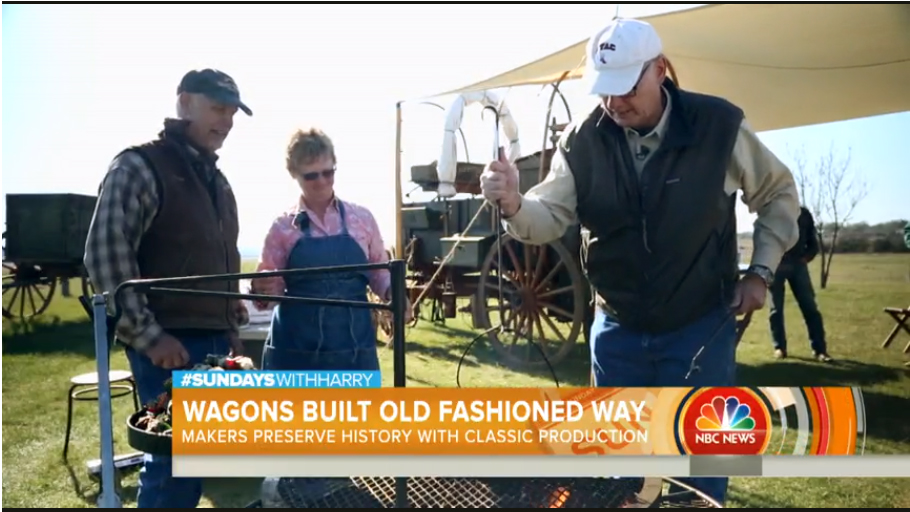 During his visit, Harry enjoyed a stagecoach ride, got involved with cooking lunch around the chuck wagon campfire, and visited with the craftsmen in the shop about the "heritage crafts" which they employ to build the horse-drawn vehicles and wheels. These crafts, which were used over 100 years ago, are considered by many to be lost arts – but at Hansen Wheel and Wagon Shop, the professional coach building and wheelwright trades are alive and well.
Owners of Hansen Wheel and Wagon Shop, Doug and Holly Hansen, focus on maintaining the historic craftsmanship and designs of a bygone era through the building of authentic horse-drawn vehicles, as well as maintaining the historic accuracy of each antique wagon they restore. "It's more than just a family business," says Doug. "We have a dozen full-time employees and we are always on the lookout for craftsmen wanting to expand or develop a long-term trade."
Nearly forty years ago, Doug began his quest to rediscover the trades or "lost arts" involved in wagon making through extensive research of historic horse-drawn vehicles, as well as networking with other craftsmen and historians. The Hansens now offer employment opportunities in these trades through apprenticeship programs much like those utilized in frontier days to train employees and help perpetuate the expansion of these traditional crafts.
"The craftsmen at Hansen Wheel and Wagon Shop have the opportunity to 'live history' and through the wagons and coaches we build and restore, we can offer our customers that same opportunity," Doug relates.
"We were excited to have Harry Smith visit our shop," Doug said. "Our craftsmen take great pride in perpetuating the handcrafted quality of old-world artisans, and enjoyed the opportunity to show their skills to a worldwide audience. We had some fun with the film crew as well. After rolling out the chuck wagon to serve a hot, campfire dinner, Harry stepped right in and helped with the fry bread. We even hitched up our Deadwood stagecoach for footage, allowing the crew to experience the spirit of the Old West."
For information on Hansen Wheel and Wagon Shop, visit our website at: www.hansenwheel.com
And watch for updates on current shop projects at our Facebook page: https://www.facebook.com/HansenWheelShop/?ref=hl
Footage of the "Sundays with Harry" video segment can be found at: http://www.today.com/video/how-to-build-an-old-fa...